BSN Cell Mass 2.0 525g+NAPALM SHOT+PRÓBKA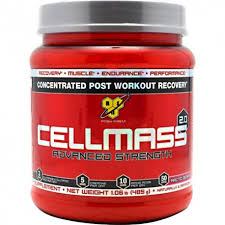 CellMass 2.0 to innowacyjny i zaawansowany suplement potreningowy o działaniu silnie regenerującym. CellMass 2.0 to synergiczne połączenie kreatyny z hydrolizowanymi białkami serwatki oraz tauryną, glutaminą i inne związki przyspieszające regenerację i wspomagające prawidłową prace mięśni.
CellMass 2.0 nie tylko wspomaga uzupełnianie poziomów wysoko energetycznych związków chemicznych, takich jak kreatyna oraz utraconego podczas intensywnych treningów ATP, ale także zmniejsza zakwaszenie mięśni i redukuje stany zapalne powstałe w wyniku intensywnego treningu. Ponadto, dzięki regulowaniu poziomu insuliny oraz wspomaganiu gromadzenia się zapasów glikogenu w mięśniach, skutecznie redukuje katabolizm i sprzyja budowaniu czystej masy mięśniowej.
CellMass 2.0 to doskonały produkt ułatwiający efektywne budowanie czystej masy mięśniowej dla sportowców, którzy wiedzą, że sednem szybkiego rozwoju muskulatury jest właściwa regeneracja.
Skład:

Wartość energetyczna 32 kcal
Węglowodany 0,5 g
Białko 7,6 g
CellMass ® 2,0 zastrzeżona mieszanka 6 g
Creatine Monohydrate
Taurine
L-glutamine
Glutamin Acid
Pozostałe składnikie
Recovery Composite
Hydrolysate Whey Protein Isolate [milk, soy]
Acesulfam, Sucralose
DAWKOWANIE:

W dzień bez treningu 1 porcję (miarka) raz dziennie o dowolnej porze dnia (najlepiej rano przed śniadaniem lub w ciągu dnia między posiłkami na względnie pusty żołądek). W dzień treningowy dodatkowo spożywać kolejną porcję po treningu