Trec Tribulon Black to nowy nastepca poprzedniej formuły Trec Tribulon .Podobnie jak poprzedni preparat jest oparty na bazie zioła tribulus terrestris,standaryzowany na rekordową – 95% zawartość bioaktywnych saponin.


Trec Tribulon Black w całkowicie naturalny i bezpieczny sposób powoduje zwiększenie produkcji własnego testosteronu.
Tribulus Terrestris, lub inaczej buzdyganek naziemny jest rośliną, występującą naturalnie w przyrodzie. Od wielu lat była wykorzystywana w medycynie chińskiej i indyjskiej jako lekarstwo na impotencję i stymulant seksualny. Stosunkowo niedawno odkryto jej efekty pozwalające na zastosowanie w sporcie. Zażywanie Trec Tribulon Black znacząco podnosi poziom testosteronu a to z kolei przekłada się na wzrost siły, masy mięśniowej i osiągów w sportach siłowych. Wielu sportowców przyjmujących Trec Tribulon Black notuje poprawę wytrzymałości oraz szybsze spalanie tkanki tłuszczowej.
Trec Tribulon Black to rozsądne połączenie jakości i ceny – preparat jest jednym z najmocniejszych tribulusów na rynku, charakteryzując się jednocześnie bardzo atrakcyjną ceną. Jedna porcja(2 caps.) dostarcza aż 1560 mg 95% ekstraktu zioła tribulus terrestris.
Trec Tribulon Black nie jest sterydem androgenno-anbolicznym, nie można uznać go za hormon. Nie powoduje reakcji szkodliwych, a tym samym nie ma zakazu zastosowania w sporcie. Wyciąg z buzdyganka znalazł zainteresowanie wśród sportowców podnoszących ciężary, jak i kulturystów, którzy skutecznie łączą go z inhibitorami aromatazy, jak i z ZMA.

Opakowanie: 60 kapsułek
Skład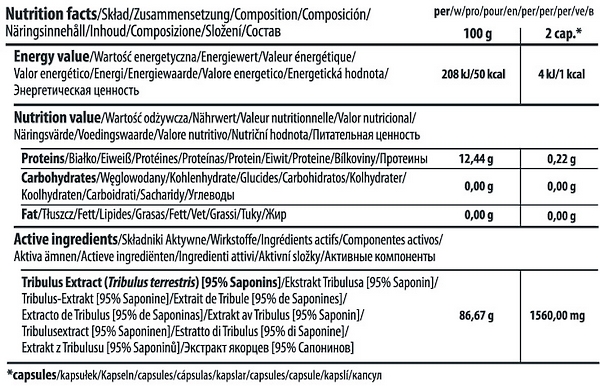 Zastosowanie
Dla sportowców pragnących zwiększyć siłę i masę mięśniową,
Dla osób pragnących zwiększyć wytrzymałość i efektywność spalania tkani tłuszczowej,
Dla osób mających na celu utwardzenie sylwetki i polepszenie definicji mięśni.
Dawkowanie
W dni treningowe 2caps. 30 min. Przed treningiem.
W dni nietreningowe 2 caps. 30-45 min przed snem.