Trec - Crosstrec Flex Box 20 sasz.
CROSSTREC FLEX BOX to wieloskładnikowa formuła przeznaczona dla sportowców uprawiających dyscypliny obarczone dużym ryzykiem kontuzji tj. trening funkcjonalny. Produkt zawiera łatwowchłanialny hydrolizat kolagenu typu I oraz II, glukozaminę, chondroitynę i kwas hialuronowy.
CROSSTREC FLEX BOX zawiera także skoncentrowane kwasy tłuszczowe z rodziny omega-3 pochodzące z innowacyjnego, mikrokapsułkowanego oleju z ryb oraz witaminę C, która pomaga w prawidłowej produkcji kolagenu w celu zapewnienia normalnego funkcjonowania kości oraz chrząstki. Porcja produktu zalecana do spożycia w ciągu dnia to 15 g (1 saszetka).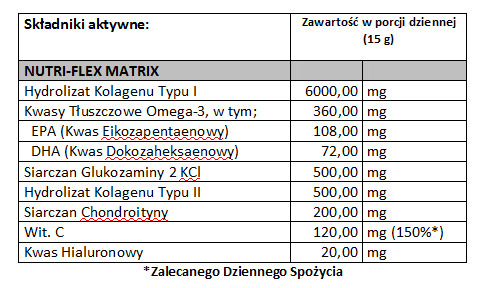 hydrolizat kolagenu typu I; MEG-3® POWDER – mikrokapsułkowany olej rybi [60% rafinowany olej rybi; żelatyna; substancje przeciwzbrylające – fosforan sodu, krzemian wapnia; maltodekstryny; regulatory kwasowości – askorbinian sodu, kwas cytrynowy; olej rzepakowy; aromat; przeciwutleniacz – tokoferole; olej słonecznikowy]; maltodekstryny; regulatory kwasowości – kwas cytrynowy, kwas jabłkowy; siarczan glukozaminy 2 KCl; hydrolizat kolagenu typu II; siarczan chondroityny; aromaty; wit. C (kwas L-askorbinowy); susbtancja słodząca – sukraloza; hialuronian sodu; barwnik – azorubina.
Dawkowanie:
Zalecaną dzienną porcję preparatu ‒ 15 g (1 saszetka) rozpuścić w 300 ml wody używając do tego szejkera. Preparat stosować najlepiej bezpośrednio po posiłku.